A2 WordPress Hosting Review 2020
neelabhatta, 5 months ago
0
3 min

read
2917
As a WordPress user, any web host you're considering should be held to a much higher standard. Given WordPress's massive popularity, hosts should offer specific features geared towards its users – A2 Hosting doesn't disappoint in this aspect.
Optimized WordPress installations: A2 Hosting offers optimized WordPress installations to maximize speed and security. This enables you to focus on growing your site without worrying about performance.
Fast loading sites: This provider's main claim to fame lies in its speeds. Faster loading speed lowers your bounce rate and keeps the users happy, so that's definitely a good thing. We'll discuss performance in-depth later on, so keep reading.
So far, we're off to a decent start! Let's move on to see how A2 Hosting fares with its customer support.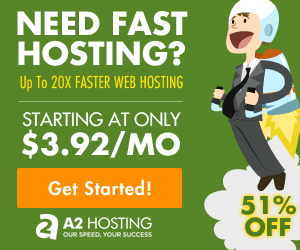 Support options
We've heard good things about A2 Hosting's customer support, so we were particularly excited about testing it first hand. Before diving in, we took a long look through their documentation. Their knowledge base includes over 40 WordPress-specific articles, including using Google Analytics and administering WordPress from the command line.
Moving on, we tested one of A2 Hosting's support agents using the live chat function (although they can also take emails and phone calls). After clicking on the Live Chat button, we waited a mere 20 seconds before having an agent assigned to us. We then proceeded to pepper them with a few basic questions:
Performance
Raw performance is one of the main criteria you need to consider when choosing a web host. Here are the main features that A2 Hosting offers to improve user performance:
Solid State Drives (SDDs): All of their WordPress plans offer SSDs, which cuts down on loading speeds across the board.
Turbo feature: Some of their (more expensive) plans offer an exclusive Turbo feature, which claims to cut down on loading times enormously.
Aside from these features, A2 Hosting offers data centers in three locations:
Michigan.
Amsterdam.
Singapore.
However, with the above in mind, every web host claims to offer bleeding-edge speed and technology – so you shouldn't take those claims at face value. Let's do some testing of our own and see how A2 Hosting performs.
Page speed tests with Pingdom
For this test, we used a bare-bones WordPress website without any customizations after setup. Then, we tested how quickly our site loaded using three different Pingdomservers in multiple locations to get more accurate results:
Melbourne: 2.24 seconds.
New York: 480 milliseconds.
Stockholm: 911 milliseconds.
We got off on a rough start with the Australian test but recovered afterward. Overall, these are some decent results – so let's see if our server can hold up under stress!
Page speed tests with Load Impact
Load Impact enables us to test how any given site would perform under moderate amounts of stress. To do this, we configured it to simulate 25 concurrent users, added one by one over a five minute period. Here are the results:
Load generator: Ashburn, US.
Test server: Chicago, US.
Minimum response time: 230.83 milliseconds.
Maximum response time: 289.49 milliseconds.
Well, we hope that this was helpful to you. These are a few benefits that you would have access to if you pick this hosting provider. Apart from all these, there are loads of benefits that come with A2 hosting which you can have access to by using their services.
Related posts
Best Wireless and Bluetooth Earphones
In todays world not only phones and laptops have got improved and advanced but also earphones or earbuds. Few years back earphones or earbuds used to come with wires that could be connected to phones but now it's so advanced that the companies have come…